A Convenient, Thorough Vet Clinic
Woodbury
We offer a broad range of primary and urgent care services, from vaccinations and annual exams to those uh-oh moments when you need veterinary care ASAP.
Monday - Wednesday:

9AM - 7PM

Thursday:

Closed

Friday - Sunday:

9AM - 7PM
---
Things to Know

New to Bond?
Use code NEWFRIEND100 to get $100 off your first visit.

Virtual Visits
Can't make it to our clinic? Book a telehealth visit to chat with one of our vets from the comfort of your home.
---
Services We Offer
---
Want to get updates about
Woodbury?
Be the first to know about exclusive promotions, upcoming events, new clinic openings, and more. Sign up to stay in the loop on our opening date, upcoming events, exclusive promotions, and more.
Conveniently located in Woodbury, NY
Inside Our Clinics
Our minimalist, clean Woodbury vet clinic is designed to comfort both people and their pets. Warm tones, comfortable furniture, soothing lighting, and entertainment — toys for pets, books for people — make our animal hospital a comfortable place to spend some time.
Visit our Woodbury vet clinic for urgent care, wellness checkups, routine and specialty surgery, and dental care, with diagnostic equipment, labs and medication onsite. Our compassionate team takes care of everything from vaccines and stomach issues to "Hmmm, my dog is acting a little weird today." Plus, we treat emergency cases for half the cost of traditional emergency hospitals.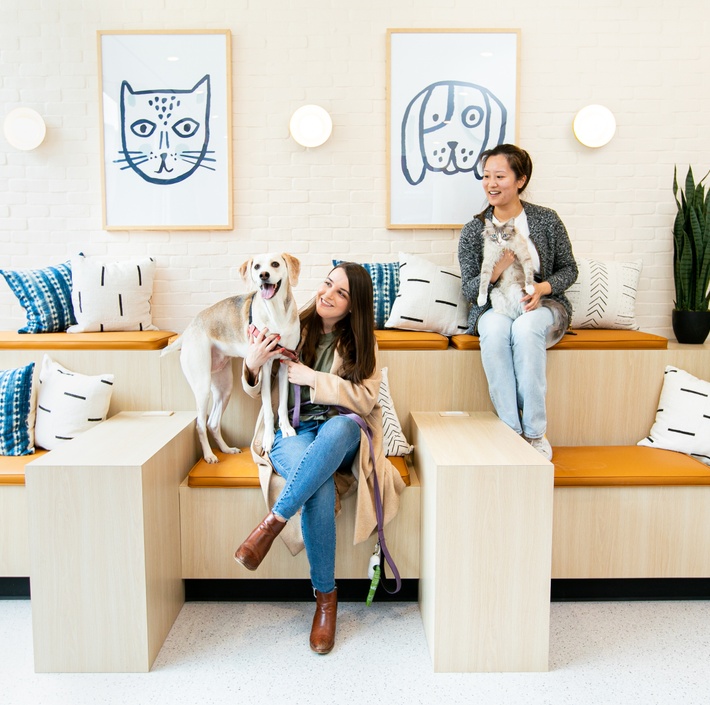 FAQs
Similar to urgent care for people, we provide treatment that falls between routine exams and emergency care. This includes issues like bite wounds, stomach issues, wound treatment, pain or limping, eye and ear issues, coughing, urination issues, and more. Essentially, urgent care for pets is whenever you think to yourself, "I think something's wrong — a vet should take a look at this ASAP."
A checkup is a comprehensive nose -to-tail examination by a doctor who will customize a medical plan based on your pet's needs and answer questions you may have. If our doctor recommends additional treatments or diagnostics, we'll go over what they are, why they would be beneficial, and how much they cost beforehand.
Yes, we take all pet insurances, and our Woodbury team will be more than happy to help you submit a claim.
Yes! Our Woodbury clinic has a dedicated dental suite to provide the best dental cleaning experience for your pet. During the cleaning, an oral exam is performed, full-mouth radiographs are taken, teeth are scaled and polished, and we remove calculus from the tooth's surface and under gum lines. We then probe the teeth to measure the pockets that exist under the gum lines. If teeth are very unhealthy, we remove them.