Dental Care
For Dogs & Cats
A pet's dental health affects their overall well-being. Prevent tooth decay, gum disease, and other serious health issues by routinely getting your pet's teeth cleaned.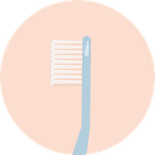 To schedule your pet's dental cleaning, please send us an inquiry below, and our dental care team will contact you.
We know from human medicine that oral hygiene is incredibly important for overall wellbeing. It's a key way to keep your cat or dog healthy. If a cat or dog could brush their own teeth, it'd prevent the need for frequent cleanings, but unfortunately they can't. Additionally, while it's recommended that pet parents provide dental care at home, as pet parents ourselves, we know how hard this is to do regularly. It's important to note that dental treats and water additives are helpful, but they don't work hard enough to keep plaque and tartar off pet's teeth or maintain healthy gums. For most pets, we recommend dental cleanings every 2-3 years. During dental cleanings, we remove tartar from the teeth and under the gum lines, which will prevent infection and bone loss. Keeping teeth clean and gums healthy is the best way to ensure your pet keeps those teeth forever. It also helps prevent other health issues, such as heart and kidney infections, down the road. We are here to provide thorough, gentle dental care for your furry BFFs.
From pre-op to post-op, our clients love the personalized dental cleanings we provide for their pets. Hear from a client about her experience to learn what you can expect.
FAQs
Dental cleanings start just like yours. An oral exam is performed, full-mouth radiographs are taken, teeth are scaled and polished, and we remove calculus from the tooth's surface and under gum lines. We then probe the teeth to measure the pockets that exist under the gum lines. If teeth are very unhealthy, we remove them. There is often pain and risk of infection associated with diseased teeth. What we have heard from our clients is that pets seem brighter, eat better, and look happier after a dental cleaning with us!
Dental extractions are when we remove teeth during a dental cleaning procedure. Teeth need to be removed if the tooth is broken, if the inner part of the tooth called the pulp or dentin is exposed, if the tooth is mobile (wiggly), if the tooth is dead, or if we see evidence of infection. We always hope to take out as few teeth as possible, but after taking dental x-rays, we sometimes find some bad surprises lurking under the gum lines. 
A dental cleaning starts with counting and charting all the teeth. We then take full mouth dental x-rays. After that, we clean the teeth with ultrasonic scalers, and lastly polish the teeth.
If your pet doesn't require extractions, the process takes under 1 hour. If we do need to perform extractions or your pet has dental disease, however, it will take longer. During the entire dental cleaning, we will keep you informed.
In dogs and cats, we remove teeth because:

• Teeth have been fractured (after chewing on an antler or rocks, for example).

• Your pet still has baby teeth.

• Teeth have an abscess or pocket of infection at the root.

• Teeth never erupted (these can cause dangerous cysts).

• Teeth are dead causing infection or pain.

• Teeth are mobile and is a source of infection and discomfort.
• Bad breath

• Broken or loose teeth

• Extra teeth or retained baby teeth

• Teeth are discolored or covered in tartar

• Abnormal chewing or drooling

• Reduced appetite or refusal to eat

• Pain in or around the mouth

• Bleeding from the mouth

• Swelling around the mouth
The pricing for dental care will vary for each pet based on the situation. To inquire about pricing, please submit a dental inquiry and our team will contact you with details.
Every pet is required to have a pre-operative appointment. This will consist of a full physical exam and medical history review. We do this to ensure your pet is ready to undergo the anesthesia necessary for the procedure, and that we are aligned on which (if any) teeth need to be removed.
Yes, your pet will be under full anesthesia. This protects your pet's airways while our team uses sharp instruments and a steady flow of water in your pet's mouth. If you have more questions about this, you can call one of our veterinary hospitals.
Yes, dental disease is the most common disease in dogs and cats. Over 68% of all pets over the age of three have some form of periodontal or dental disease. Most pets will show few signs of dental disease.
Periodontal disease is the inflammation or infection of the tissues surrounding the tooth. Accumulation of tartar and calculus on the teeth contributes to gum recession around the base of the tooth. Left untreated, infection can spread into the tooth socket, and ultimately the tooth loosens and falls out.
Because 2⁄3 of the tooth is under the gumline, we perform dental radiographs for every patient to ensure the health of the entire tooth. Dental radiographs can reveal things like abscesses, bone loss, unerupted teeth and more.
At Bond Vet, our health care team is Free-Fear certified. This means that we have additional training that allows us to prevent & alleviate fear, anxiety and stress in all of our patients.

Regarding the dental procedures, our veterinarians use therapies that are tailored to individual patients – this ensures that they are low-stress and pain-free.
We understand how frustrating that is, and we are eager to collaborate with you on ways to achieve dental health care at home. Start with rewarding your pet for letting you touch his/her mouth, and slowly (using positive reinforcement with a high value treat) work your way up to brushing.

Would you be interested in scheduling a tooth-brushing demonstration with a technician? At that time we can also discuss alternatives to brushing such as certain treats, and water additives.
Conveniently Located
Find your nearest Bond Vet location.
0