An Animal Hospital for
All Your Pet's Needs
We're an animal hospital designed around you and your pet. We offer both urgent care and wellness, so you can come in for everything from annual exams and vaccines to stomach issues and wounds.
What We Offer
Those times when something's going on with your pet, and you need a pro to take a look. If it's after-hours, a serious injury, or life-threatening illness, we'll refer you to a 24-hour emergency hospital.
We provide nose-to-tail consultations to make sure your pet is happy and healthy. And, if your pet is due for a vaccination or needs other services, our vets will review costs with you before proceeding.
Have a pet health question? We're here for your 24/7. Call us at (212) 624-BOND to speak with a qualified veterinary professional at any hour.
We keep medications and treatments onsite, so you'll walk out of our clinic with everything you need — no need to track anything down.
It's all in-house — we perform blood, urine and fecal tests, digital X-rays, and other tests on premises to provide fast and reliable results.
Weird poops? Can't keep food down? We've seen it all. We'll perform an exam and get your pet feeling better in no time.
We'll keep your pet safe from heartworm, bordetella and more — and send reminders when they're due for a vaccine.
We perform oral, soft tissue, orthopedic, ocular, and other speciality surgeries right here in our clinic. Learn more about surgeries at Bond Vet here.
Start off on the right foot, er, paw. Our comprehensive puppy and kitten exams ensure you and your new pet are ready to take on the world.
We'll radiograph, scale and polish your pet's teeth — which will make the kisses and licks much more pleasant. Inquire about a dental cleaning for your pet here.
It's a rite of passage in every dog's and cat's life — we'll make it as painless and comfortable as possible. Inquire about a spay or neuter here.
Yes, there's an app for that. Download the Bond Vet app to reach our veterinary team 24/7, view your pets records, and book appointments.
We'll take care of exams and paperwork for domestic and international travel — because you don't want to leave your furry family member at home. Learn more here.
We'll teach you techniques to help correct common dog behavior problems — it's as much about training the human as the animal.
Every pet has a unique microbiome, and we'll help you zero in on the foods and ingredients that work best for them.
We treat a variety of skin-related issues like ringworm, bites, and rashes.
It's never an easy decision. We approach end-of-life care with compassion and warmth to make the experience as comfortable as possible for both you and your pet.
Our experienced veterinarians can help you navigate your dog's or cat's health issues online. A 20-minute video call with one of our vets is similar to an in-person visit. Book a telehealth visit here.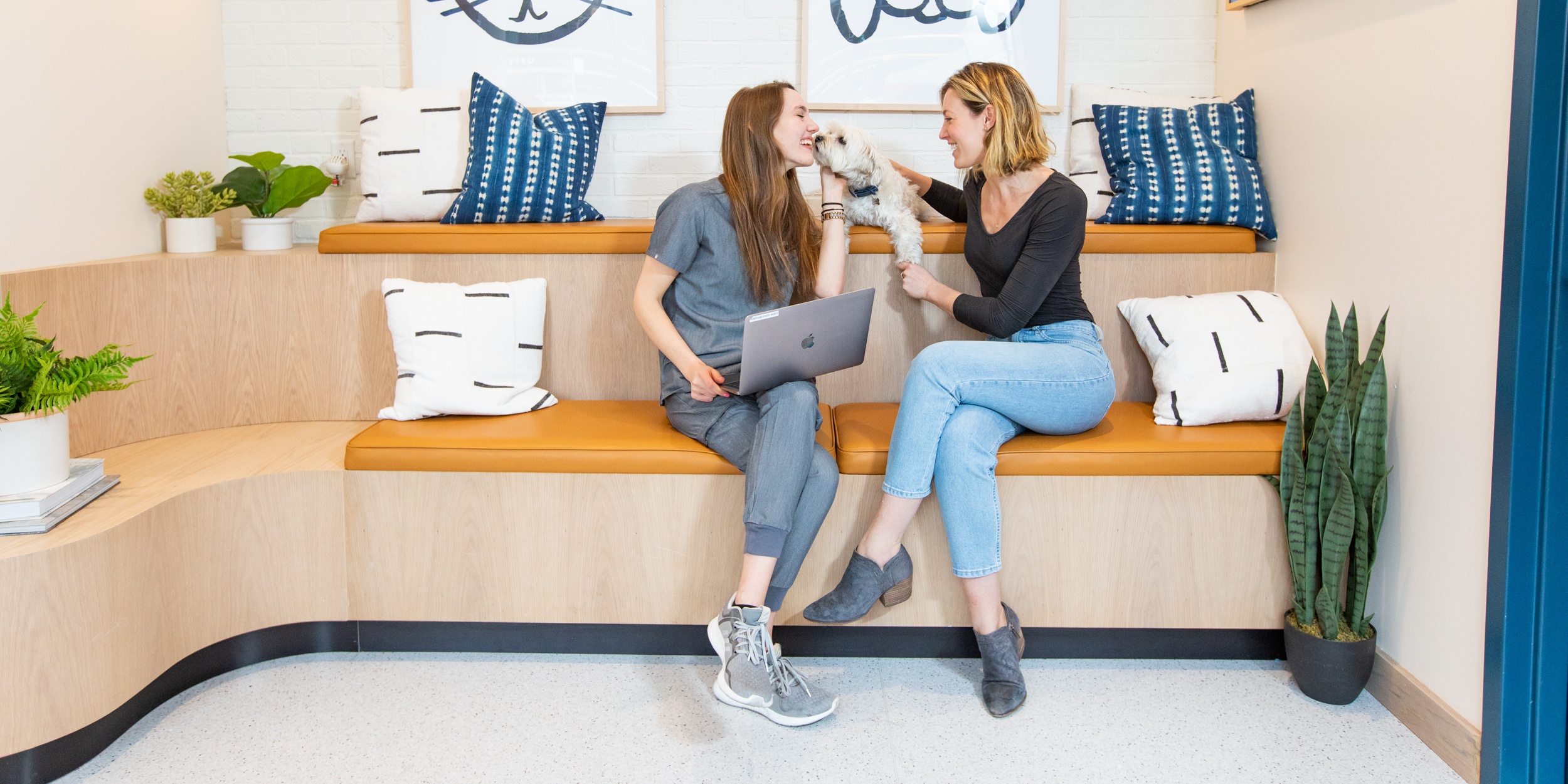 "This was my pup's first time at Bond Vet and I felt like I should've been bringing him here all along."
- Michell, Bruno's Mom