Orthopedic
Surgery
by Bond Vet
Orthopedic surgery involves the prevention, diagnosis, and treatment of bone, joint, ligament, tendon, and muscle disorders.
Please note: Orthopedic surgery is only available in NYC at this time.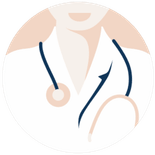 To schedule your pet's surgery, please send us an inquiry below, and our veterinary team will contact you.
Each of our clinics has a dedicated surgery room complete with state-of-the-art equipment. Our surgical team uses the latest technology, time-tested techniques, and cutting-edge diagnostics to provide our furry patients with the best care possible.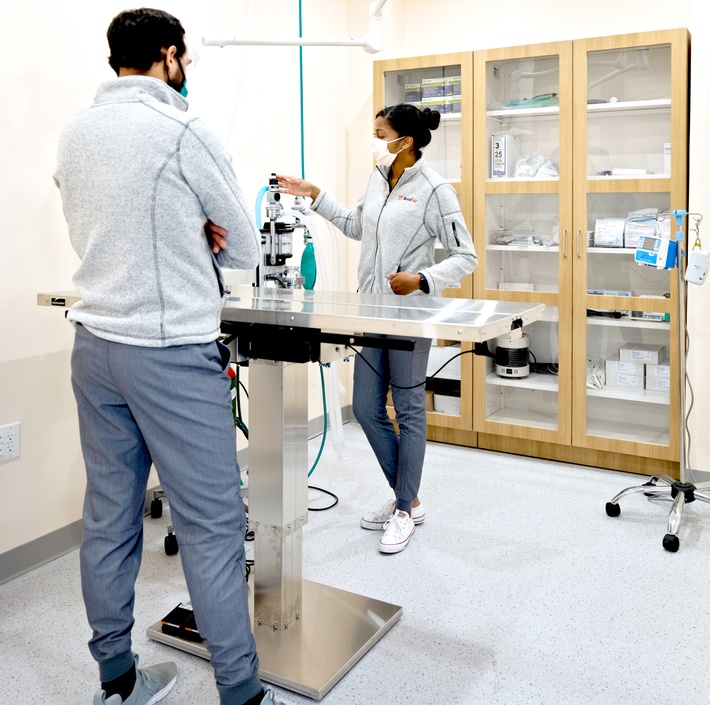 Surgery at Bond Vet is led by our Director of Surgery, Dr. Renee McDougall.
Dr. McDougall has a special interest in orthopedic and minimally invasive surgery and a passion for using research and teaching to improve population health. With these tools she believes we can build a healthier community with less need for surgeons like her.
Doctors: To refer a client to the Bond Vet Specialty Surgery team, please fill out this form, and we'll get in touch.
ACL stands for "anterior cruciate ligament," although in dogs and cats it's more commonly referred to as the CCL, or "cranial cruciate ligament."
It's a small ligament located inside the knee joint, and it plays an important part in keeping the joint stable, in an appropriate position, and functioning well.
Since dogs have a slope inside their knees, their ACL bears more weight than human ACLs do — making them more prone to tears.
The ligament can tear from: normal wear over time, injury, or conditions that destabilize the knee joint (such as a luxating patella). Also, it's important to note that pets who tear the ACL of one hindlimb are at risk of tearing the ACL in their other hindlimb later in life.
ACL tears result in painful inflammation and swelling and, if not treated, can lead to irreversible bone and cartilage damage and arthritis in the knee.
Femoral head ostectomy, or FHO, is a surgical procedure that involves removing the head and neck of the femur (thigh bone) that normally fits into the hip joint. Removing the top portion of the femur relieves pain and restores mobility to a dog or cat with an injured or diseased hip.
Usually, the first sign of a problem is limping, or holding up one of the hindlimbs and not wanting to place weight on it. This may happen suddenly, after an injury, or it could be something that develops slowly over time due to a genetic defect or arthritis.
A vet will confirm the need for an FHO through a physical exam followed by an x-ray.
After your pet heals from an FHO, they'll be able to walk and play pain-free.
Learn more about FHO.
Patellar luxation, most commonly found in small and toy breed dogs, is a type of genetic kneecap instability.
Normally, the patella (kneecap) sits in a groove between two ridges. But with patellar luxation, the kneecap can slide sideways and out of its groove, making it difficult to place weight on the limb, especially if the condition is severe.
Luxating patella may or may not be painful in the short-term, but over time the joint instability often leads to the development of painful arthritis, and may put your pet at risk of other injuries such as an ACL tear.
Our vets are able to diagnose the condition as early as a puppy's first visit, and will help you navigate the best course of action for your unique pet.
Amputation is the surgical removal of an extremity of the body. This may be as small as a toe or tip of the tail, or as large as a forelimb or hindlimb.
There are many possible reasons for an amputation, including a painful injury that can't be repaired, a paralyzed limb, or cancer.
Amputation is only considered when it will result in a better quality of life for your pet. Once the damaged extremity is removed pets are much happier and more comfortable.
Learn more about amputation.
A bone fracture describes a bone broken into two or more pieces. Most commonly, fractures occur as a result of an injury, such as being hit by a car or sustaining a fall.
If your cat or dog isn't putting any weight on a limb or you notice swelling, bring your pet in to be examined and x-rayed by one of our vets. They'll determine the best method for repairing your pet's fracture, which may involve pinning or splinting.
Depending on the method and severity of the fracture, your pet may take between 6 and 12 weeks to heal, during which they'll need to rest. After healing, they'll be able to return to normal activity.
Conveniently Located
Find your nearest Bond Vet location.
0