Surgeries by bond vet
Specialty Surgeries
You Can count on
While a general practice veterinarian is able to skillfully perform surgeries, a board-certified surgeon has the benefit of extensive training, experience, and application of novel equipment, research, and techniques.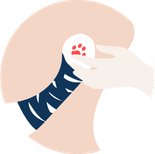 To schedule your pet's surgery, please send us an inquiry below, and our veterinary team will contact you.
Meet our Director of Surgery
A New York City native, Dr. Philippa Pavia earned her undergraduate degree at Yale University and attended the University of Pennsylvania for veterinary school. She was happy to come back home to NYC to obtain advanced training, completing a rotating internship followed by a 3-year surgical residency at the Animal Medical Center. She was subsequently board-certified as a Diplomate of the American College of Veterinary Surgeons in 2015.
Before joining Bond Vet, Dr. Pavia accrued years of experience in both clinical and leadership roles — as a specialist surgeon in Manhattan and a Medical Director of a specialty and emergency hospital. Dr. Pavia's focus is advancing medical quality (with an emphasis on surgical training and outcomes), and she is passionate about making veterinary medicine a sustainable long-term career for vets, nurses, and all members of the hospital team.
What is a board-certified veterinary surgeon?
Much like in human medicine, specialists are clinicians who have undergone additional training after veterinary school. This training consists of a minimum of a 1-year internship followed by a 3-year residency program that meets guidelines established by their national governing body (for surgery, this is the American College of Veterinary Surgeons, or ACVS).
During the residency there are specific training and caseload requirements that must be met. In addition to these requirements, applicants must perform research that is published in a scientific journal and then pass a rigorous test known as the "Board Exam" to be deemed a "Diplomate of the American College of Veterinary Surgeons." Dr. Pavia is one such board-certified surgeon.
When should my pet see a specialist surgeon?
Board-certified surgeons are trained to perform more complex procedures and partner with highly skilled anesthesia nurses, enabling them to care for pets who may have higher risks with surgery and anesthesia.
Specialists act as a resource for your primary veterinarian by providing consultations on difficult or unusual cases. You can also benefit from the close professional network of other specialists with whom they can consult about complex cases.
Keep in mind that specialists work as a part of your pet's care team alongside their general practice or primary care veterinarian. Here are the most frequently asked questions from the American College of Veterinary Surgeons
Why is the specialist more expensive?
All of our doctors work with trained anesthesia nurses and experienced assistants. In addition to a highly trained board-certified surgeon, the Specialty Surgery team is composed of nurses and assistants with particular training and skill sets honed over years in a specialty environment, caring for pets with higher anesthetic risk and performing procedures that are less common and more technically demanding.
Our Specialty Surgery service also has access to state-of-the art surgical and anesthetic equipment that is not commonly available in a general practice setting.
From pre-op to post-op, our clients love the personalized dental cleanings we provide for their pets. Hear from a client about her experience to learn what you can expect.
FAQs
Yes, you'll need to book a pre-op appointment at our clinic. After you submit an inquiry, our veterinary team will reach out to you to answer your questions and schedule your pet's pre-op appointment. During the appointment, our veterinarian will discuss preparing for the surgery, the procedure plan, cost, risks, and recovery.
There are many reasons. Here are a few.

Neutering or spaying your puppy or kitten limits the likelihood your pet develops cancer, such as mammary cancer, prostate cancer, or testicular cancer.
Spaying and neutering limits pet overpopulation.
For some dog breeds, like french bulldogs and chihuahuas, pregnancy is dangerous.
Spaying prevents life-threatening uterine infections called pyometras.
Neutering drastically decreases humping humping and urine marking behavior.
Yes! We accept all pet insurances for surgical procedures.
Yes, our team performs emergency surgical procedures at all of our clinics.
We recommend spaying or neutering your dog between 6-8 months of age. Though some pet parents with large breed dogs may choose to keep them intact until they are 2 years old.
We recommend spaying or neutering your cat around 4 months old.
Each pet requires unique care, and each surgery differs in price. Our team will provide an estimate after they've examined your pet.
It is important to not feed your pet the morning of their surgery. Your dog or cat must have an empty stomach to be sedated.
Yes, your pet will go under anesthesia for their surgery, however, some minor biopsies and mass removals may be performed with sedation and local anesthetics.
We inject your pet's muscle or vein with sedatives to help them relax during a procedure. Sedation may be required for short, minimally painful treatments or for fearful or aggressive patients
Immediately after your pet wakes up, we'll give you a call. When you pick up your pet, our veterinarian will provide you with personalized home care instructions. This will include guidance on food, medications, activities, and recheck instructions. If you have questions, you should always feel comfortable giving us a call or sending us an email or text. Most animals are very groggy after their surgery (which is normal), and will recover from the anesthesia 24-48 hours after their visit. Some pets may experience soft stool, or changes in their appetite for a few days which, similar to humans undergoing surgery, is very normal!  
It depends on the type of surgery your pet received, but we'll give you specific recommendations post-op. Generally speaking, you'll likely need to restrict your pet's activity for the 10-14 days following a procedure. For dogs, this means short, controlled leash walks lasting about 5-10 minutes so they can do their business. For cats, we recommend they do not jump or play. If you're having a hard time keeping your pet controlled, we can prescribe some sedatives to help them sleep off the first few days. 
Depending on the type of surgical procedure and healing process, your pet may or may not need to come back for a re-check. If you're worried about the incision or surgical site, bring your pet in for a complimentary recheck or send us a picture to make sure things are healing appropriately.
Injectable drugs are given to help pets feel sleepy. They aren't completely under anesthesia; they can still lift their heads and move their legs, but they aren't able to sense pain. This may be required for short procedures and can also be recommended to help fearful pets feel more comfortable during things like x-rays.
Our patients are given injectable medications, and are maintained on an inhalant anesthetic that delivers the medication as gas to their lungs. This is similar to laughing gas at a human dentist's office but is much more potent. We use this for invasive procedures, such as procedure involving the abdomen.
Conveniently Located
Find your nearest Bond Vet location.
0